More Americans Are Turning to TikTok for News, Survey Says
While TikTok may be best known for its wacky challenges and trendy dances, more Americans are using the short-form platform to get their news, according to a recent Pew Research Center survey.
The survey found that a third of TikTok users regularly get their news from the platform, a more than 10% increase from 2020. Although that trend is dominated by adults under 30, the percentage of 30-49 year-old users who regularly use the site for news has quintupled, from 2% in 2020 to 10% in 2022. Even older Americans in the 50-64 age bracket have seen a small increase, growing from 1% to 4% in two years.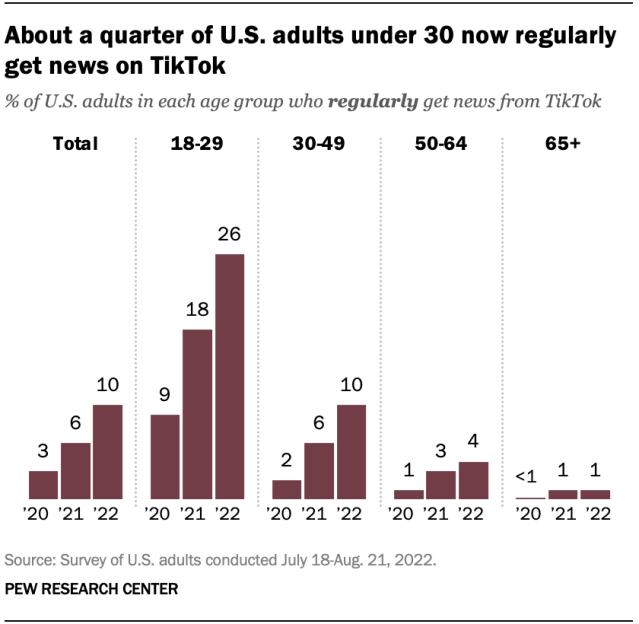 Legacy media outlets like the Los Angeles Times have capitalized on that trend.
In June, The Times announced the creation of 404, a "first-of-its-kind collective" of young journalists and creators (including a puppeteer) who produce election explainers, short documentaries, news overviews, and memes on TikTok and Instagram.
"With the goal of meeting new audiences where they are, 404 is ushering in a new era of audience engagement at The Times and rewriting the rulebook for how a 'paper' exists online," the Times wrote in a statement. 
In a recent 404 TikTok, viewers accompany Judeh, a recurring muppet-style character, who treks across the southwest to register to vote before the Oct. 24 deadline.
@latimes

𝚆𝚎𝚕𝚌𝚘𝚖𝚎 𝚝𝚘 𝟺𝟶𝟺At the edge of the continent—at the end of the world—404 is where everything extremely L.A. and everything extremely online crash together to create something new. We can't wait to show you what's next.

♬ original sound - 404 [by L.A. Times]
"Many foes did I encounter on that long, arid stretch" Judeh says in the video, a bindle slung across his back. "But none to compare with the black and white terror of a democracy deserted."
Individual journalists like Sophia Smith Galer, an award-winning content creator with over 400,000 followers, have also found a following on the platform.
TikTok's rise as a news platform comes as other major social media companies have seen declines in news consumption over the past few years. That said, Twitter and Facebook still dominate as the largest social media news providers, dwarfing TikTok's small but growing audience.
@latimes 🗣HEY, CALIFORNIA! Did you know you can register to vote ON ELECTION DAY, at your local polling place or voting center? It's true — your ballot will be conditional on your eligibility, and then included during a 30-day vote-counting period. P.S. Californians don't need a permanent address, WiFi or even a computer to register to vote, you can always register @lapubliclibrary! #vote #votetiktok #election ♬ original sound - 404 [by L.A. Times]